The Mera Intelligent chair W/ Upholstered Outer Back can be used for many office applications, from Task worker to Executive office. The Mera is both attractive and dynamic; you will not find a chair with greater ergonomic perks.
With its compelling and distinctive backrest curve, Mera integrates well in modern interiors thanks to its transparent, light weight styling. This version of the Mera chairs come with an upholstered outer back rest and eye catching white/grey finishes.
High-tech features make the chair easy to use, ensure healthy dynamics and offer lasting benefits for various body types.
Some of the High-Tech Features Include:
Adjustable Height of Lumbar Support
Seat Slide function Changes Seat Depth
Width and Height Adjustable Armrests
Patented Synchronized Mechanism
Celligence

®

Seat System
One of the most unique features is the Patented Celligence Seat Technology. This seat system keeps the sitter in an active position. The seat has an air-filled bladder within it that is easily adjusted by the user. You can inflate or deflate the subtle bladder at the push of a button, so you can determine what work best for you. This feature significantly reduces Coccygeal and hip pressure.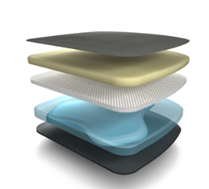 The Klöber company have been manufacturing seating in Germany since 1935, these chairs are completely manufactured in Germany. Klöber's forte is state-of-the-art technology and top quality craftmanship. This specialist brand stands for first-class ergonomics and intelligent design.
This version of the Mera is only available in black fabric with white-grey finishes. It also comes with a 5 year warranty.
Seat Width 500mm
Seat Depth 500mm W/ 60mm Sliding Seat Pan
Lumbar Adjustment
Synchronized Mechanism
Back 590 x 460mm
You May Also Like
---