Commercial Grade Living Fabrics 100% Australian Eco Wool ENVIRONMENTAL CERTIFICATION: GECA TYPE 1 ECOLABEL
A DUO COMFORT chair is a fully adjustable ergonomic office chair featuring a Dual Density Posture Support Seat.
The Dual Density Posture Support Seat system comprises TWO INDEPENDENTLY UPHOLSTERED sections in the seat
with (a firmer foam at the front and a separate softer foam section at the back)
The Dual Density Posture Support Seat encourages you to sit back in the SOFT part of the seat. The concept is that the two pointy pelvic bones ( ischial tuberosities ) sink into the softer foam section. The front FIRM part of the seat has the effect of wedging you between the FIRM front cushion and the BACK LUMBAR support, thereby supporting you and holding you between the seat and the backrest.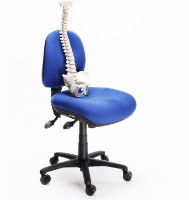 Posture Support
Good POSTURE... sitting with a tall 'S' curve results in lower stressors on the spine compared to slouching into a rounded 'C' curve. ( Nachamsen )
The Dual Density Posture Support Seat aids in positioning and supporting the pelvis. Wedging the pelvis between the firmer front seat cushion and the lumbar support in the backrest enhances Comfort, Back Support, Posture and Productivity.
The DUO COMFORT ergonomic office seating is manufactured to comply with Australian Standard 4438. AFRDI Level 6. or 135kg person under normal use.
A dual density posture support seat pan is recognised by ergonomic consultants, and health professionals as providing the best solution for posture support, comfort, task focus and productivity. The majority of Australia's top 100 companies now use posture supportive chair solutions either as their primary office chair or an aid for staff with back or work-related injuries.
1. DUO Dual Density Posture Support Chair
2. Softer foam at the back of the seat supports and holds the pelvis in the correct position where the firmer cushion the front of the seat discourages a user from sliding forward.
3. Moulded seat design encourages the user to sit with legs slightly apart thus creating a wider base of support. The 'waterfall' edge improves blood circulation behind the thighs.
4. Pronounced lumbar support for maximum spinal support and comfort that has rise and fall ratchet height adjustment mechanism.
5. Full ergonomic adjustment ensures maximum comfort and minimum fatigue. Controls adjust seat height, seat tilt, back rake angle and height.
6. Height adjustable arm rests are set back so as to not clash with desk top.
Pricing allows for upholstery in Pure New Commercial Grade ECO Wool - please advise fabric and colour choice when ordering.
ergonomicoffice have IN STOCK In WOOL FABRIC ready to supply Office Chairs (upholstered in Living Fabrics "Chelsea" Commercial Grade ECO Wool.)

You May Also Like
---