What to Consider When Buying an Office Chair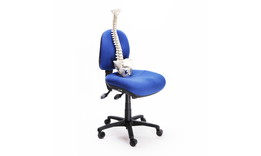 There are several things you should consider before buying an office chair for your workplace. Workers can spend more than 2,000 hours per year sitting in an office chair, the quality of which can determine their level of comfort and productivity. By choosing office chairs that combine various factors, you can significantly improve their overall performance.
At Ergonomicoffice, our specialists can help you make more informed purchasing decisions that will greatly benefit the success of your organisation. We also proudly offer ten day chair trials to ensure that your chair is the right fit. Here's some useful information for business owners and managers as well as office planners and procurement specialists looking for the perfect solution.
Ergonomics
When it comes to choosing an office chair, there are few considerations more important than ergonomics. This can reduce repetitive work strains and minimise the loss of productivity you might otherwise experience when employees take sick leave for related afflictions. Office chairs that are easily adjustable in terms of back tilt, seat tilt, back height and overall chair height are highly recommended.
Chair Size
Before purchasing office chairs, you need to remember that employees and workspaces come in many different shapes and sizes. The office chairs you choose must accommodate these differences, otherwise complications of varying severity can arise. For example, employees who weigh more than 100 kilograms may require chairs with extra room and support.
Added Features
For those of you who may require some added ergonomic features, a chair with seat slide, lumbar pump or adjustable lumbar support may be what you need. Specialised features such as gel seat office chairs are also ideal for people who require a reduced level of pressure on the coccyx and pelvis. An ergonomic chair with a headrest may suit those looking to reduce strain on the neck and upper back.
Dual Density Seat
The Duo Comfort range of chairs incorporates Dual Density Seat Technology. Dual Density features firmer foam in the front half of the seat and softer foam in the back half.
The separation of the two foam densities is indicated by the split. The pelvis gently 'sinks' and is supported in the softer section in the correct seating position at the back of the chair.
Firmer foam at the front discourages the pelvis from sliding forward into the slouching "C" curve of poor posture.
The moulded foam also encourages and improves blood circulation behind the thighs. With the added height adjustable lumbar support the spine is maintained in the healthy, upright "S" curve of good posture which also creates less stress on the arms, shoulders and neck throughout the day.
Eco-Friendliness
If you want to uphold eco-friendly standards throughout your office workplace, looking for chairs that are made from sustainable or recycled materials is highly recommended. Eco-friendly chairs also feature low chemical emissions, helping to improve the air quality that circulates throughout the workplace. You may also want to choose chair manufacturers that minimise packaging and delivery waste.
Contact Us Today
Ergonomicoffice is the number one destination for ergonomic office chairs and other office furniture in Australia. For more information about what to consider when buying an office chair, contact us today. Give us a call on 1300 555 930 or send us a message via our convenient online enquiry form.