Tips for setting up an ergonomic workstation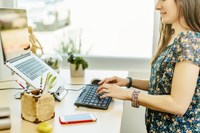 What do I need when I'm setting up a new workstation? What will make it easier for me to complete my tasks? How can I best utilise the bench space I have? And will it all be worth it?
These are all questions everyone has when they are setting up a new workstation, wither for themselves or for a colleague. Today we are going to assist with some ideas as to what you might need, and how it will all work together to create a more productive work environment.
1. Monitor Arms
Monitor arms are an extremely underrated piece of equipment, as most people do not think about them at all. They allow the computer monitor to be raised completely off the desk, allowing for the desk space to be utilised. If you select the right one, they also allow you to move the monitor around the desk, either further away or closer, or from left to right dependant on your needs. This means your desk becomes customisable to the requirement of different tasks. Ideal for ergonomic hot desking situations, or just anyone wanting to fully utilise the space they have on their desk.
Products to Consider:
Flo Single Monitor Arm
Humanscale M8.1/M2.1 Single and Dual Monitor Arms
C.ME Dual Monitor Arm
2. Document Holder
Another piece of equipment that is often overlooked is a document holder. This unique item is used to typically hold paper work that you require for standard tasks and data entry, but can also be used to hold text and reference books, large legal documents, or even a mobile phone so it can stay in viewing range while you work. Some products can also be used as a writing slope as well as a document holder, which adds an extra layer of versatility and practicality. A must for anyone looking to keep their desk organised, and avoid the on the neck and shoulder muscles that constant leaning and straining can cause.
Products to Consider:
Flexdesk 630
Microdesk Standard or Microdesk Compact
3M Document Holder
3. Compact Keyboards
Keyboards are something that everyone with a computer is very familiar with, but the idea that a smaller keyboard can improve productivity is foreign to most. Compact keyboards allow you to have the mouse as close as possible to the keyboard which in turn releases the strain that can be placed on the neck and shoulders, allowing your arms to stay in the optimal position at all times while using the computer. Some options can also allow you to have the keyboards split, meaning that each side can be raised to angles. This means that anyone with wrist issues can have their wrists at a more natural angle while typing; alleviating the stress and strain normal keyboards can sometimes cause individuals.
Products to Consider:
BakkerElkhuizen S-Board 840
BakkerElhuizen Ultraboard 950 Wired & Bluetooth
BakkerElkhuizen Ultraboard 960 Compact Full-Featured Keyboard
Goldtouch GO! 2 Wired & Bluetooth
4. Ergonomic Mice
Selecting the right mouse is a very individual choice, and finding the one that suits you can be a bit of a minefield. The important things to consider are whether you have any special requirements from the mouse, do you have any injuries, and does the mouse feel comfortable to use. The vertical mouse has risen in popularity due to its ability to promote neutral forearm positioning and prevent excessive forearm twisting. they also quite often come with programmable buttons, allowing for personal customisation dependant on the users' requirements. An adjustable mouse can allow the user to switch between tilt angles, so as to find the angle that feels best for the individual. There are also trackball and roller mice that can be beneficial to anyone with particular needs due to injuries. For anyone without any special requirements, a straight ergonomic mouse can be the way to go, as they cradle and support the hand to deliver as much comfort as possible.
Products to Consider:
Evoluent Vertical Mouse D and 4
Goldtouch Ergonomic Mouse
Oyster Mouse
Contour Roller Mouse
Kensington Expert Mouse Pro
BakkerElkhuizen PRF Wireless Mouse
5. Laptop/Tablet Risers
For anyone who spends hours working away on a laptop, a laptop riser is an absolute essential. Raising the laptop up to eye height allows you to see the screen more clearly, and then use a mobile keyboard instead of the inbuilt keyboard. This means less strain on your eyes, neck, shoulders and arms, and an all-round easier user experience. Laptop risers are extremely portable and can come with various added features dependant on what you need, and what your budget will allow. Some are also custom built to allow tablets to sit comfortably on them as well, adding more functionality, and a further use as we move towards higher usages of tablets in the workplace.
Products to Consider:
BakkerElkhuizen Q-330
BakkerElkhuizen Q-Hybrid
Goldtouch Go! Laptop Riser