What is ABW?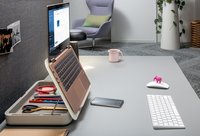 Activity Based Working is a term commonly used when referring to a particular way people work within an office. The idea behind ABW is that the office environment is designed with different zones to accommodate staff based on the type of tasks they perform. This means a worker can take their laptop with them from a noisy open plan desk area to a part of the office that is tucked away, to focus on what they're doing. Once they're finished with that task, they may need to move to a short informal meeting at a standing meeting table, or move across to an enclosed office space for focused collaboration with teammates. The work environment is tailored to suit different tasks.
Not only does ABW allow access to the right environment for a particular task, it gives the employee choice as to where they would like to work, so they don't feel pigeon-holed with a single office desk.
Even though ABW has been around for a number of decades, modern day technology advancement and accessibility has enabled companies of all sizes to implement ABW work environments. It has been noted in Australia that 1 in 3 workplaces have implemented or are planning to implement an activity based working environment.
Why is ABW better than traditional working environments?
Not only does ABW allow people to work the way they feel is best for them, ABW is good for an organisation as a whole. it is designed to help with employee retention, promote collaboration and sociability, it also reduces absenteeism and encourages movement throughout the day.
Ergonomics and the Activity Based Working environment
So, now that an organisation has created an agile working oasis of nooks and crannies for people to escape to, how do we ensure people don't end up with neck pain from working on laptops in informal settings? There are many new ABW products emerging that are aimed at ensuring people maintain neutral postures in varied settings. The best of these products is the laptop user's best friend, the Bento Box by Dataflex.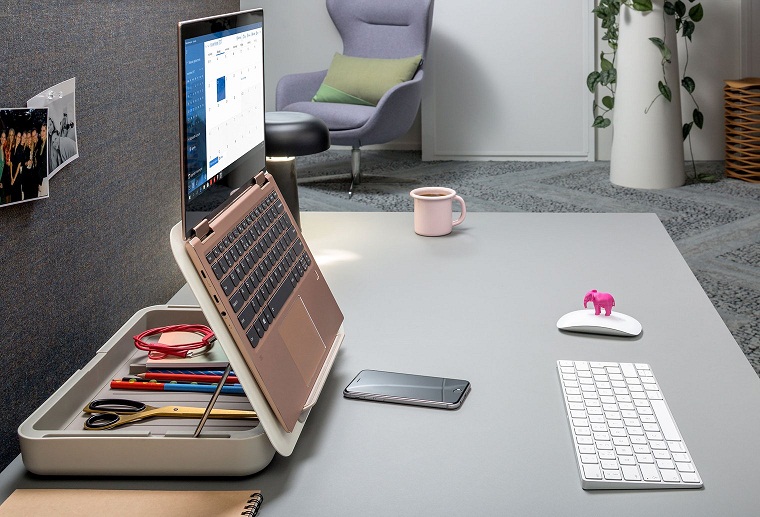 The Bento is a compact and durable ergonomic toolbox that can fit in your carry bag. The Bento's primary function is an ergonomic laptop riser, to improve posture whilst using a laptop. It can also be used as an in-line document holder when working from a desktop computer and a personal storage device for hot-desking and clean desk environments, it's a 3 in 1 product! It can neatly store your office utensils, A4 documents, security passes and mobile devices up to 12". The silicone moulded inlay ensures your items are protected during transportation.
The best part about the Bento ergonomic toolbox is that it can be taken offsite for those who work remotely or from home. This enables the employer to provide a cost-effective ergonomic environment when staff are away from the normal office environment.
Other ABW Related Products
Acoustic products for the office (to reduce noise pollution)

Acoustic seating

Acoustic partitions and screens

USB-C Link devices for streamlined hardware connectivity; such as M/Connect 2 from Humanscale and the Viewlite Link USB-C docking station from Dataflex

Height adjustable workstations

Break out area furniture

Task seating

Task lighting (to reduce eye strain)

Standing meeting tables
Contact ergonomicoffice on 1300 555 930 or sales@ergonomicoffice.com.au to find out more about ergonomic products in the office environment.